Friends of Mary Slessor is a subsidiary group of the Mary Slessor Foundation concentrating on local fundraising and raising the awareness of Mary's life and work.
Associates;
Lynne Binnie
Carolyn Johnston
Alan Rae
Kudzai Mutsiwa

---
Mary Slessor Merchandise:-
Book:-
"The Barefoot Missionary" – Elizabeth Robertson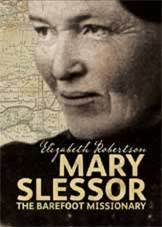 One of the most remarkable women of her generation, Mary Slessor is achieving increasing recognition for her amazing life story. A hard-working mill girl and unorthodox Sunday school teacher in Dundee, Mary had a fierce spirit and ability to stand her ground. This determination served her well when, inspired by missionary and explorer David Livingstone, she became a missionary herself in a notorious part of Africa. There her feisty character and solid belief in God saw her through illness and constant danger as she ventured into areas where no European had gone before. Mary lived with different tribes around Calabar, Nigeria, respecting their traditions but also inspiring their people and offering much-needed care. She put an end to barbaric tribal practices and adopted many African children who would otherwise have been left to die. Mary also, during Southern Nigeria's transition to a British Protectorate, proved to be a skillful and diplomatic emissary. This is a story of dedication, courage, fortitude and faith.
To buy a book contact the Mary Slessor Foundation.

Music:-
A CD of the highly acclaimed Mother of All the Peoples (Dundee cast) is available to purchase either from the McManus Galleries, Dundee or contact lbinnie@maryslessor.org. All proceeds go to the Mary Slessor Foundation. This musical play returns next year please refer to details on events page.
Jewellery:-
A collection of handmade Nigerian jewellery selected by Eme Mitchell, great great grand-daughter of Mary Slessor's best friend Eme is available to purchase from McManus Galleries, Dundee. All proceeds go to the Mary Slessor Foundation.