The fate of empires depends on the education of youth." (Aristotle)
In any educational environment graduation is a significant milestone that celebrates and recognizes the hard work and achievements of the students completing their studies, as well as all the teachers, mentors, family, and friends who supported them in making this dream a reality. Many students at the Mary Slessor Foundation (MSF) Vocational Training & Skills Acquisition Centre are supported financially by one or more relatives, though some manage to pay for their own training.

Preparations for the MSF graduation began a month in advance as we planned and worked to make the day memorable for all in attendance. There were the refreshments, invitations, DJ, decorations, awards, and most importantly the graduate certificates. Over one hundred invitations were personally delivered to parents, chiefs, government officials, local business owners, and friends of the Foundation.
On the day of the graduation, we welcomed our many visitors including parents, siblings, friends and supporters from Calabar and prominent community members, some of whom were seated at the high table. This was also a good opportunity to showcase our facilities and the work of students, which stood on display for everyone to admire. The students had prepared and sang a few songs and acted in a short skit to entertain the guests.
The certificates were presented to students and three students received awards to support them in launching their careers post-graduation. A brand new Butterfly sewing machine was awarded to Margaret Edet Etim, who was the top Fashion and Design student. The two highest performers in terms of attendance and overall dedication and skill in Metal Welding and Mechanical Maintenance, Okon Ebe Okon and Etim Okon Asuquo, were awarded welding machines.
The single word that best captures the atmosphere that day is pride. Students who were incredibly proud of their certificates and achievement, parents proud of their children for completing their advanced studies, trainers beaming with pride for their students' acquired skills, and the community proud that the Foundation that operates in their midst and is run by their brothers and sisters was graduating and propelling many young people forward.
The celebrations continued with the DJ playing danceable Nigerian beats, food and drinks being served, and congratulatory remarks that were made in honor of the graduates. Visits by the trainers to some of the students' homes that evening, where many parents hosted their own graduation parties, included congratulatory speeches and thanksgiving.
It was a very special day indeed and one that will forever remain in the hearts and minds of those who were privileged enough to be involved.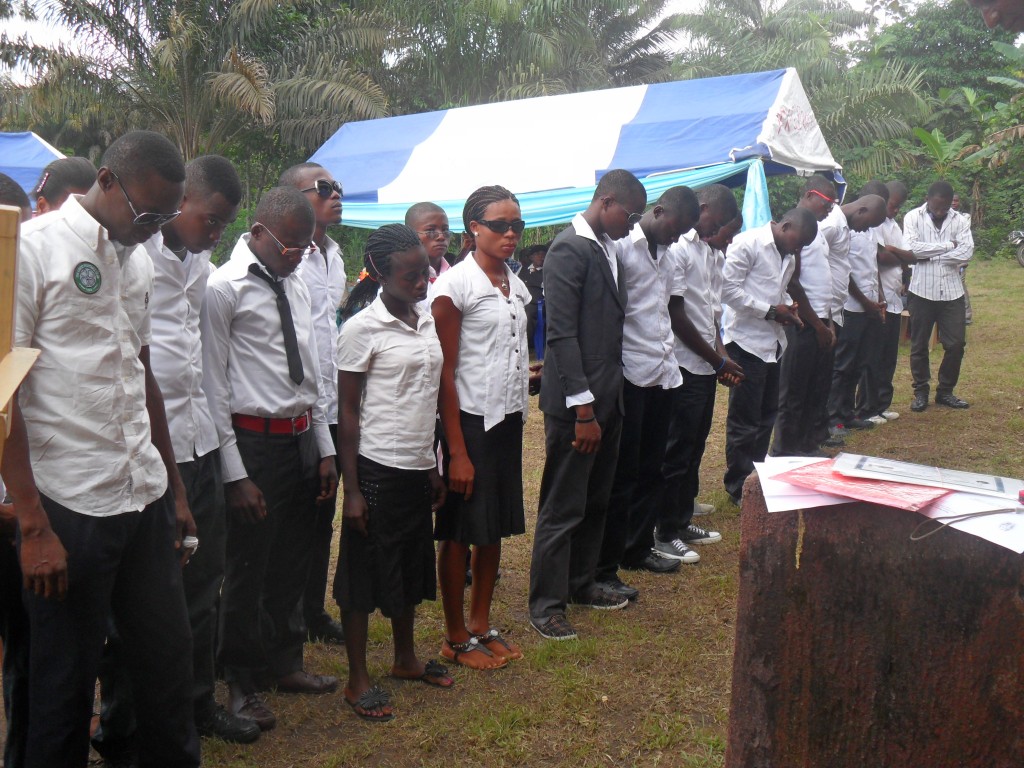 Some of the MSF graduates bowing their heads for the opening prayer.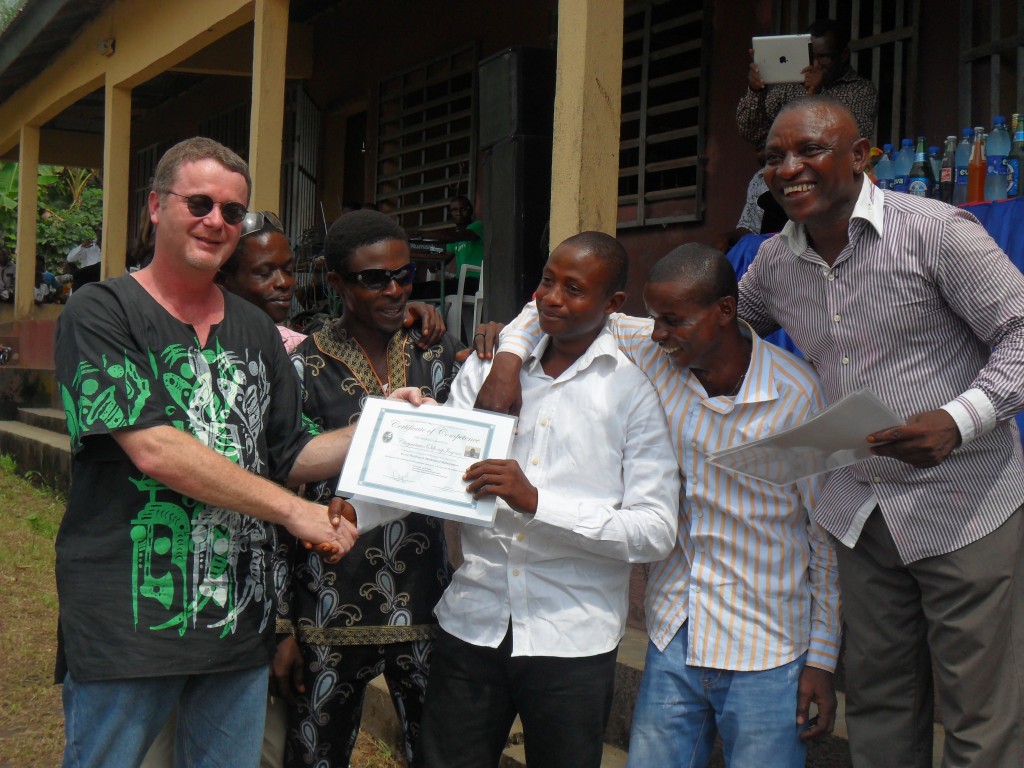 Chrysanctus Odiong Inyene (Metal Welding/Mechanical Maintenance Department) receives his certificate from Geraint (far left), and trainers Essien (left) and Effiom (right), joined by Hilary (far right) who was our graduation MC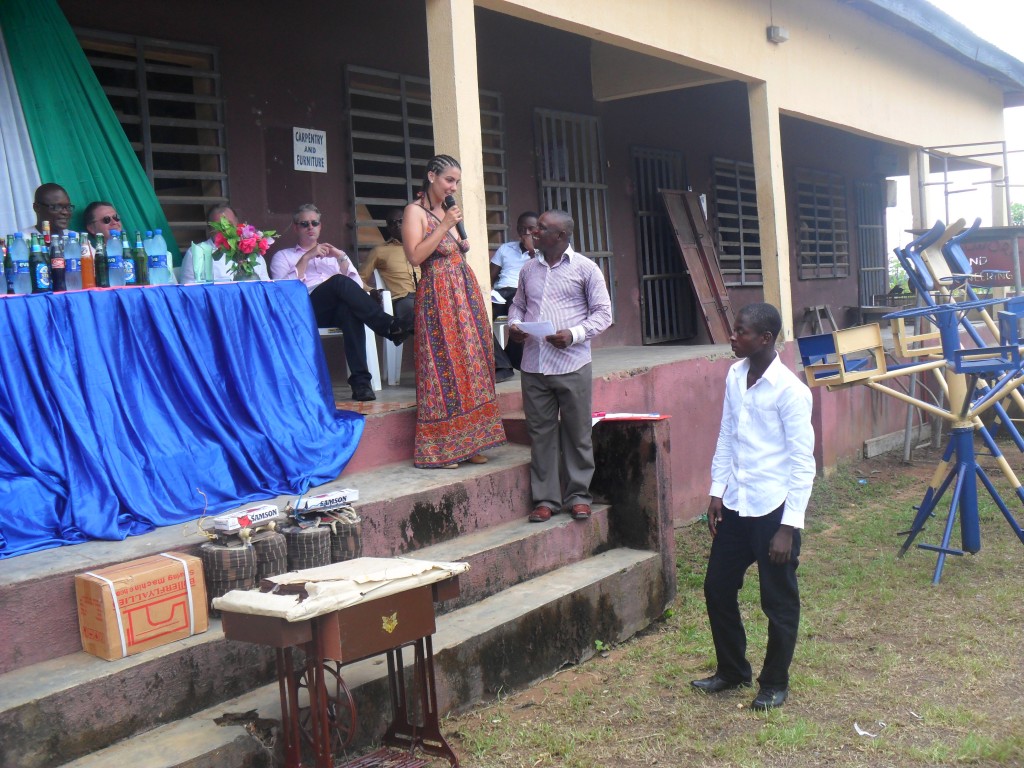 Christine (CUSO International/VSO volunteer) says a few words prior to the student awards.
Interview & Pictures with a new graduate from the Skill Centre
Full name: Alhaji Sani Mohammed
Role with Mary Slessor Foundation: Head Trainer of the Fashion + Design Department at the Vocational Training and Skills Acquisition Center

Trainer with the Mary Slessor Foundation since: 2006
Originally from: Kano State, Nigeria
Favorite thing about being a trainer at the Mary Slessor Foundation: Teaching the students and also everything that my work has enabled me to do for myself and my family such as have my own home in the community, my own motorbike, and my own sewing machines.
Something unique about Akpap Okoyong, Cross River State, Nigeria: This is a good and peaceful place that welcomes 'strangers' (people from other parts of the country).
Hope for the future of the Mary Slessor Foundation: To open another branch of the foundation in another state (such as Kano).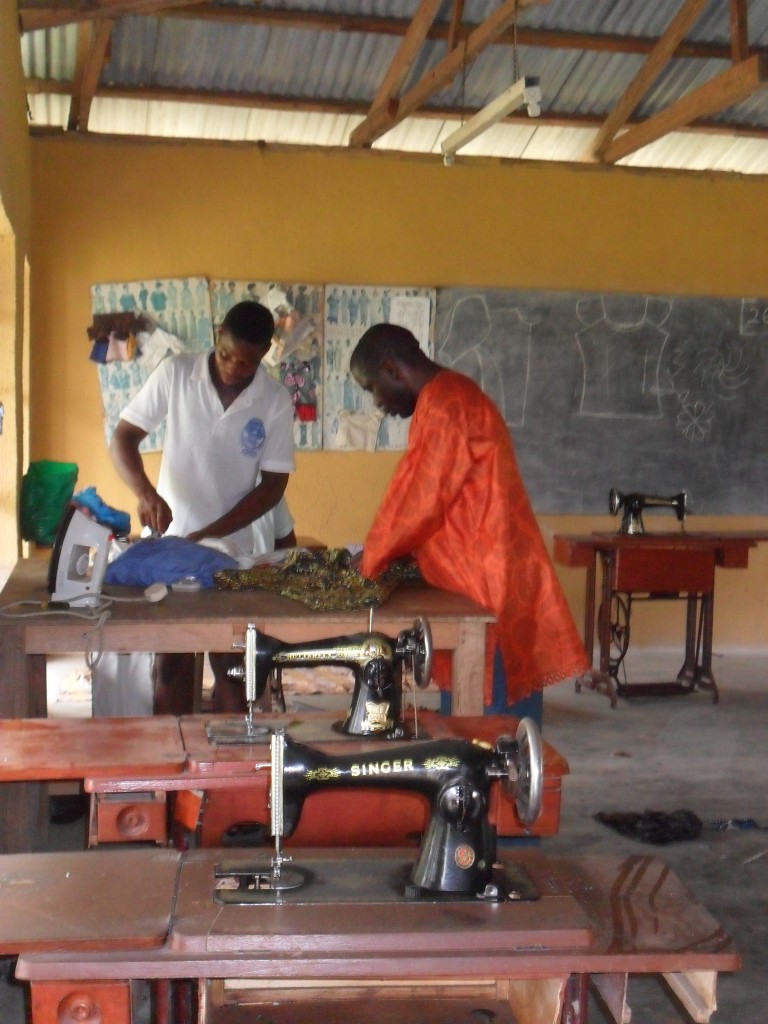 Alhaji in the Fashion + Design classroom
Alhaji assists graduation award winner Margaret with her new sewing machine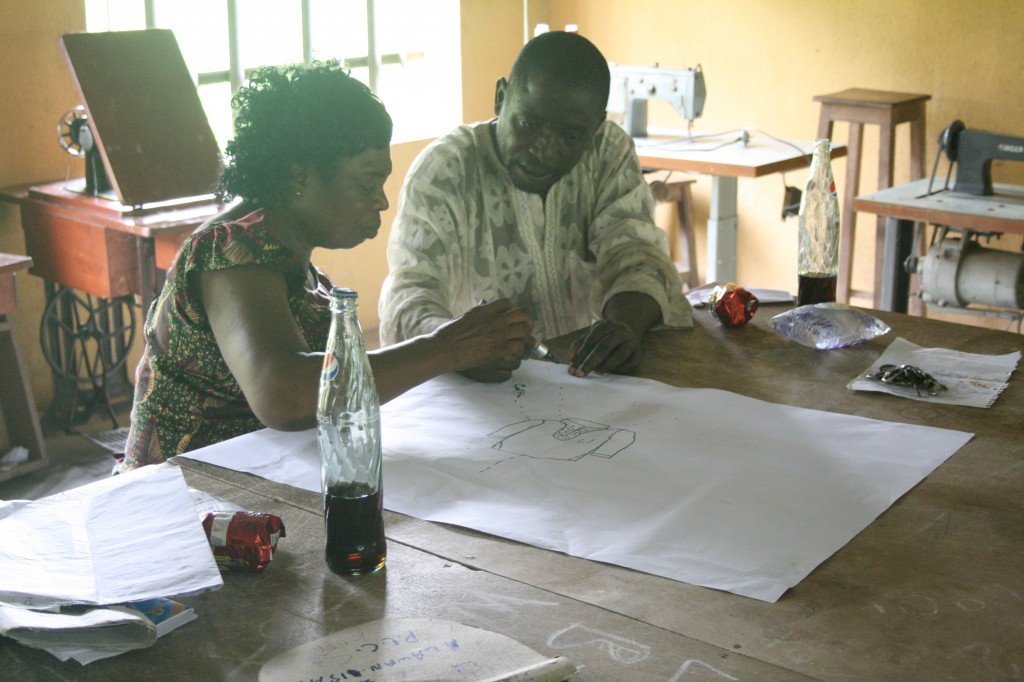 Alhaji and Rose (Assistant Trainer) work on their department's curriculum development
MSF Attends Maker Faire Africa 2012 – Lagos, Nigeria
"Maker Faire Africa is both a yearly pan-African maker faire & a community of makers. A compendium of handcrafters that hail from Africa's tiniest villages to her most expansive urban burgs. What we have in common is an unwavering commitment to origin, ingenuity & innovation. A fellowship of creators who believe making is the most authentic form of manufacturing, and manufacturing is what forges a vigorous middle class. We're bold & we're gritty, curious & quirky. Our inventions have largely stayed hidden in the 'punk of the bush' and the outer reaches of the informal sector, until now.  At our annual pan-African Maker Faire, we connect up, size up, mash up, and up the anti on redefining the future of the world's most promising continent through our own authentic, relentless African ingenuity."
 Essien, Effiom, and I took off on the daylong journey by bus from Calabar to Lagos unsure of what to expect, but looking for new contacts, creative inspiration, and of course some fun! As the trainers of the Metal Welding/Mechanical Maintenance department of the Mary Slessor Foundation (MSF) Vocational Training & Skills Acquisition Center in Akpap Okoyong, the guys had much to gain from attending an event such as this, particularly the inspiration to create local solutions to local challenges and to be innovative in their fabrications, all of which they'd pass on to their students. The event showcased everything from agricultural equipment to a urine-powered generator, and from fashion accessories to children's toys. We were all fascinated by the creativity displayed at Maker Faire Africa and each took away something that we can apply to our work at MSF.